The ocean is essential for life and plays an important role in regulating Earth's climate on a variety of timescales, from interannual to millennial. Examples of these fluctuations are the El Niño Southern Oscillation, the Pacific Decadal Oscillation, the Atlantic Multi-decadal Oscillation, and changes in the Meridional Overturning Circulation. Superimposed on these types of natural ocean variability, are the climate trends induced by human activities like CO2 emissions over the last centuries. The ocean has absorbed about 50% of the CO2 emissions from anthropogenic sources and has buried in its interior a large fraction of the surface heating, therefore contributing to a slow down of the effects of greenhouse warming. However, the natural and anthropogenic changes do not act in isolation and are inter-connected with changes in the physical, chemical and biological dimensions of the ocean environment, often triggering important coupled feedback. This makes studying the ocean dynamics a complex and interdisciplinary challenge.  
A short video by NASA that uses a variety of satellite products to illustrate the role of the ocean in Earth's climate and life.
At Georgia Tech we combine a variety of observational, modeling and statistical approaches to understand the mechanisms controlling the different dimensions of ocean dynamics and its role on Earth's life and climate.
Earth System Modeling and Data Science
New remote sensing technologies such as satellites (e.g. NASA video above), unmanned vehicles and ocean floats, and other in situ technologies generate massive streams of ocean and climate data, both at global and regional scales. While these measurements are key to help scientists to understand the ocean state and its dynamics, the synthesis of these large amount of data, and the prediction of the future evolution of the ocean and climate rely on Earth System Models (ESMs). ESMs are computer models that simulate the interactions between ocean, atmosphere, land, cryosphere, and biosphere to provide a comprehensive and multi-scale view of Earth's climate under a wide range of conditions (e.g. from future climate change to the last glacial period). At Georgia Tech OSE researchers collaborate with several groups across campus, for example in the College of Computing, to combine the available observational data with ESMs. The goal is to diagnose robust climate processes, and detect climate anomalies across the physical, biological, chemical and human dimensions of regional and global ocean systems.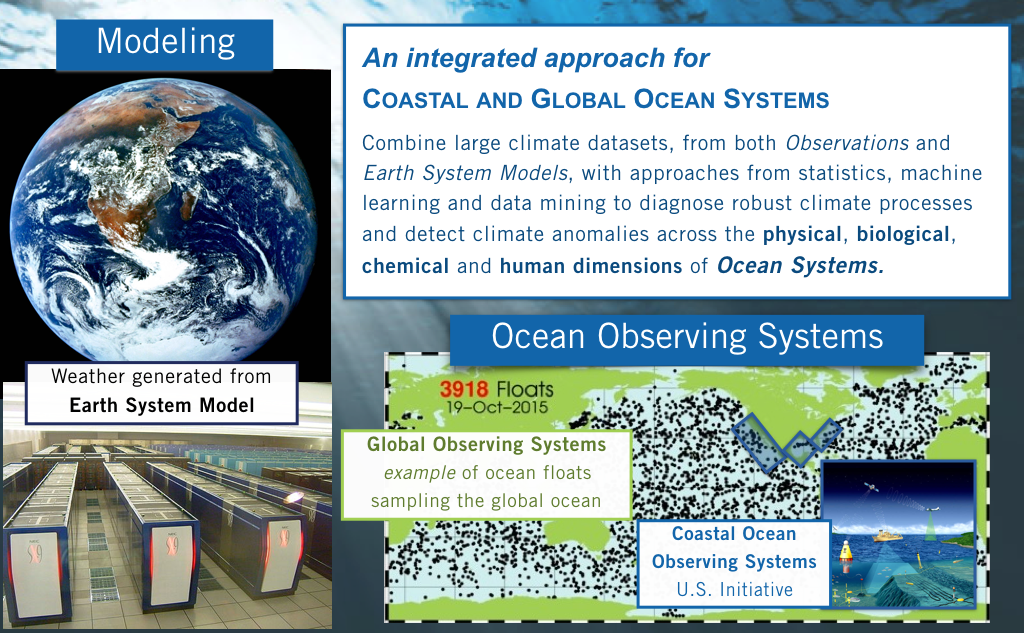 Given that ESMs also generate massive data streams, OSE has parterned with the Institute for Data Science and Engineering at Georgia Tech to implement advanced statistics, machine learning and data mining methods for diagnosing the ocean and climate dynamics from the ESMs and global/regional observing networks.
Institute for Data Science and Engineering (IDEaS)
Biogeochemical Cycles
Nitrogen and phosphorus are essential elements to life on Earth.  Their transformations in the oceans have an important effect on the carbon cycle. With regard to the nitrogen cycle, most reactions are catalyzed by microorganisms. Thus, it is key to determine the rates, pathways, and microbial groups responsible for the transformation of fixed nitrogen or biologically available nitrogen (i.e., NH4+, NO2-, NO3-). As fixed nitrogen often limits production in the world's oceans, investigations specifically target the microbial processes (denitrification, anammox) responsible for the removal of fixed nitrogen from ecosystems.
With regard to the phosphorus cycle, it is key to understand the role of organic phosphorus compounds that are found ubiquitously in the water column of the oceans. Newly developed electrodialysis-reverse osmosis techniques have allowed researchers to isolate and preconcentrate marine dissolved organic phosphorus (DOP) which is characterized using NMR and various wet chemical techniques. Simultaneously, the accumulation and storage of phosphorus in marine phytoplankton is studied using synchrotron-based x-ray spectromicroscopic techniques.
Finally, iron is a micronutrient that limits primary production in some regions of the oceans, the High Nutrient Low Chlorophyll (HNLC) zones. Predicting the effect of iron limitation on the carbon cycle requires understanding of both oceanic and atmospheric processes such as sediment transport and fluxes, ocean organic ligands and aerosols deposition. By combining models and observations we can quantify how the atmospheric circulation affects iron inputs and primary production in the upper ocean and how sediments coupled to ocean vertical mixing may provide a significant source of iron to sustain primary production in surface waters.
| | |
| --- | --- |
| | "Polluted Dust Can Impact Ocean Life Thousands of Miles Away, Study Says" |
Paleoceanography
Paleoclimate data are becoming increasingly important in climate science, as more accurate regional projections of future climate change require knowledge of climate variability over the past. Paleoclimate research at Georgia Tech focuses on i) resolving the history of the El Nino-Southern Oscillation over the last several millennia as recorded in coral and cave archives, ii) resolving the oceanographic and atmospheric signatures of abrupt climate change in both the Atlantic and Pacific oceans using cave and sedimentary archives, iii) reconstructing past ocean circulation and its relationship to climate, iv) reconstructing and understanding how the mean state of the tropical ocean/climate system varied over glacial cycles, and v) investigating the modern-day climatic interpretation of geochemical climate proxies through on-site calibration studies.
| | |
| --- | --- |
| | "Study of Fossilized Shells Finds Little Evidence of Icebergs' Influence on Ice Age Ocean Circulation" |
People in Ocean and Climate